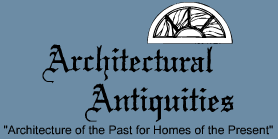 Our architectural salvage yard and showroom offers a well-organized inventory of older building materials from the Victorian era. Browse our inventory online or visit our salvage store in Maine. Read more about our architectural salvage business.

All of our items are genuine restored architectural pieces. Each salvaged house part is professionally cleaned and refurbished before we offer it for sale.

Our salvaged building materials meet the desire for "green building". By incorporating our reclaimed building materials into your home, you are saving Earth's future resources and reducing landfill space.

Nationwide shipping is available for any of our architectural pieces and salvage items.

If you'll be visiting our showroom, it is recommended that you call ahead for an appointment, as we may be out treasure hunting.

Contact us by phone at (207) 326-4938 or (207) 460-6804 (cell), or by email at sales@archantiquities.com.